EIEL Granada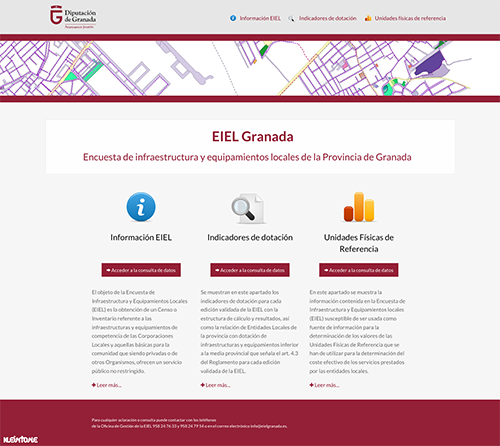 Paralelo 70
..."Cubrimos muchos miles de kilómetros, por tierra y mar, buscando los últimos espacios salvajes, intentando comprender los cambios que transforman el territorio. Tratamos de acercarnos a las fronteras de la actividad humana, entrando en contacto con los pueblos nómadas, para, de ahí, salir al espacio libre aún no colonizado por el hombre"...
18th International Meeting on Heritage Conservation
The 18th International Meeting on Heritage Conservation is a prestigious international event, undoubtedly the most important conference held in Spain in the field of conservation and restoration of cultural heritage.
This important biennial scientific meeting has been held in Spain for more than thirty years since it first took place in 1976. Thanks to its indisputable and growing success, both from the point of view of the number of participants and its truly international dissemination, this conference can be considered as a privileged resource to continue promoting and spreading the theoretical, scientific and technical advances in the conservation and restoration of cultural heritage. This year the University of Granada, in collaboration with other prestigious institutions involved in the preservation of cultural heritage, is pleased to invite you to the 18th Edition of this conference which will take place from 9 to 11 November 2011.
The Conference will also coincide with the 2011 International Heritage Preservation and Restoration Show (FIRPA) , which will be held in Granada, as well as other activities related to Cultural Heritage, such as exhibitions and guided tours, which will take place throughout the city.
For updated information and access to all services that will be available for this event you can register on our official website.
A21-Granada website
The Grenadine Network Municipalities for Sustainability (Red GRAMAS) is a provincial proyect driven by the Diputación de Granada.
It is formed by the municipalities of the province that are engaged in Local Agenda 21 processes or have shown interest in integrating sustainable development as a cross member in municipal management. Financed under FEDER projects - TEMA and ECEMED, the Diputación, along with the municipalities of the province commit to the establishment of the Grenadine Network Municipalities for Sustainability, with the goal of fostering collaboration and exchange of experiences for sustainable development. We understand that continued economic growth, can also satisfy current needs without compromising the ability of future generations to meet their own needs.
This network, since its establishment on June 18, 2009, works in solidarity with proposals and solutions at a provincial level, and is the key to achieving regional balance of municipalities through cooperation between them, conservating our fragile heritage of the province's territory and making a livable and prosperous area, with prospects for sustainability.